Hello, welcome to my website! My name is Rebird. On this page you can find my portfolio as a singer, musician, songwriter, creator, producer and organiser.
NEXT UP! Art.Beats Open Jam Session on Friday 19 Jan 2024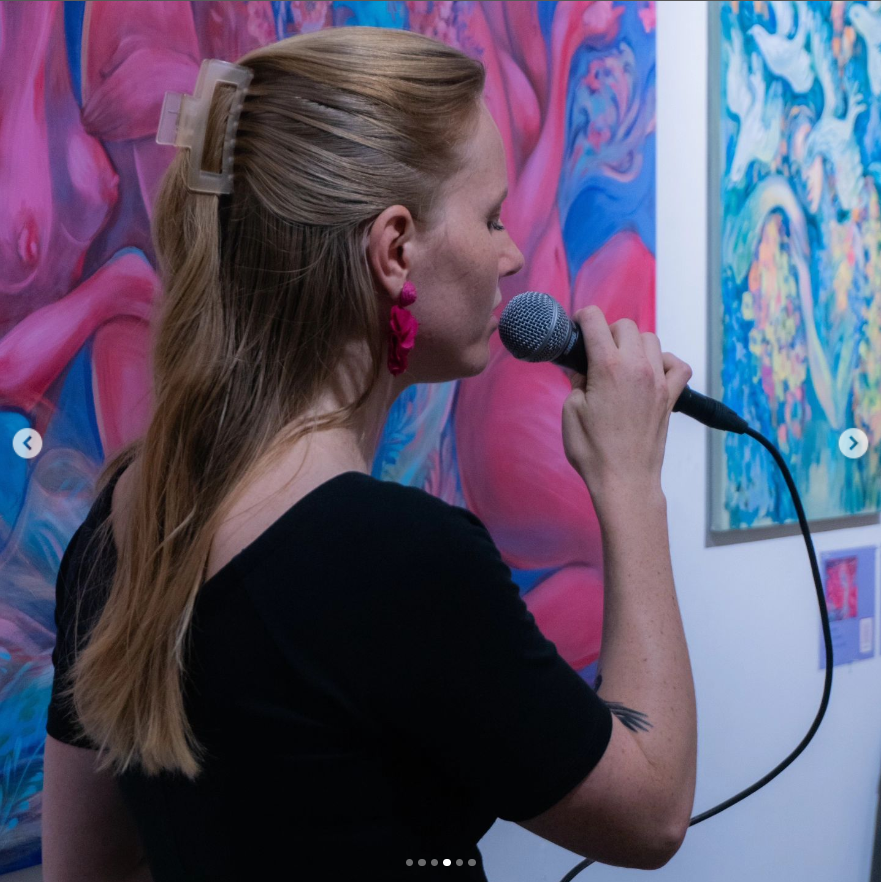 Art.Beats team is very excited to welcome you to our first Open Jam Session that we organise at the "Room To Studio" premises on January 19th, 2024.
As house band we will have our Art.Beats musicians that you may have seen at our previous events. This time we will focus mostly on music and we would like to give opportunity for external musicians to join us and jam together!
Limited places: We have only 50 available places due to capacity of the venue. Make sure to get your ticket HERE in advance!
Venue: "Room To Studio" is active music recording studio managed by musicians that plan to join our jam as well. It has 2 recording rooms with all needed equipment and spacious room with bar and sofas. Music equipment at the studio: drums set, piano keyboard, guitars, microphones. Address: C. de Pallars 84, Baixos 2, 08018 Poblenou, Barcelona.
Agenda: Friday, January 19th, 2024
20:00 – Doors open, drinks and beginning of jam session
23:00 – End of the event
Tickets:
8 EUR + Eventbrite fees, for general audience. Ticket includes several drinks.
5 EUR + Eventbrite fees, for musicians that plan to jam. Ticket includes several drinks and you can use all equipment available at the studio. However, it still would be great if you can bring your own instrument as we might not have exactly what you need.
Musicians, after registering, please write us on instagram and inform what kind of instrument you will be playing – www.instagram.com/artbeats_bcn
Tickets are donations that goes to cover event costs.
Looking forward seeing you at our jam session!
OUT NOW! Sunday in August by Extraordinary Fools
We're so happy to announce the first release of our band Extraordinary Fools. Everything has been done by us and with great pleasure and lots of love. We really hope you will enjoy this creation of ours.
We are also very much aware that it's December already and Sunday in August might sound strange to you for that reason. But we were just not ready yet to let that summer vibe go. This is a last taste of summer, helping us flowing in and hopefully through the winter smoother.
 Spotify // Youtube // Search for Extraordinary Fools Sunday in August on any of your other favourite platforms and give us a like/follow if you enjoy it!
Follow us also on https://www.instagram.com/extraordinary_fools
Lots of love
El Pepe & Rebird.
OUT NOW! November Rain by Rebird
Music & lyrics by
Rebird
Produced by
Jason Boshoff
&
Oscar Garcia Bragado
in
Room To Studios
Guitar by Luís Felipe Bolivar (
El Pepe Music)
Cover photo
by Michał Wojtarowicz
(Oczajdusza)
Made with lot lots of love
Original Music (Released Officially)
Here you can find my single Brother on Spotify (you can also find it on all the other platforms). I'm creating lots of original music unofficially which I will also post on my website. A full album is coming!
Official Music Video In Our Minds – Sept 2022
Recorded in spring 2022 at Room To Studios in Poblenou, Barcelona (@theroomto).
Rebird: "In Our Minds is an original song which I wrote about one of my past relationships. We were on such different roads but still loved each other very much. This conflicting situation gave me the inspiration for this song. What do we do when we're in a situation like this? Do we hold on? Do we let go?¨
Credits
Rebird @rebirdcreations (written, composed, arranged, performed, video editing)
Leandro Casquero @leonardkowalsky (keys, performed)
Abbie Rose Jolliffe @abbierosejolliffe (backing vocals, performed)
Dalia Shabib @dal_yah__ (backing vocals, performed)
Sandra Poula @sandra_poula (accessories)
Óscar Garcia Bragado @oscargarciabragado (audio recording, mixing, mastering)
Diego Gonzalez Zorrilla @diego.bcn (video recording, lighting)
Luís Felipe Bolivar @iammodularts (colour correction video)
Video & Music Experiments (Original Music)
Some experiments with sounds, words & visuals. Made with Ableton & Premier Pro.
Collaborations (Original Music Released Unofficially)
Collaborating with other musicians is very inspiring for me as everyone brings a different spice to the table. The burger analogy of a good friend I find very accurate: ¨It's like building a burger and everybody is a different part, creating different flavours and textures.¨ This adds up to something really special!
Singing in Harmony (Covers)
This has always been one of my favorite things to do in the whole wide world. Singing harmonies gives me so much joy and pleasure. As a kid I unconciously started singing harmonies because most of my favourite artists I sang along to on the radio didn't sing in my key, and so I always found myself a harmony line that was comfortable. Now years later I realise it's one of my most developed skills and I can create such beautiful sounds!
Concerts
As Rebird I perform in bars, on location but sometimes also online, like at the online auction for Montse Martín Pinceladas. I've also done a private concert for my grandmother as she was the highest bidder when collecting monies for a half marathon I did (check ¨Donations by Rebird Community¨ below). If you like what I do and you'd like to book Rebird (& band) for a concert, don't hesitate to contact me via rebirdcreations@gmail.com.
Flyers Past Events
Hope to see you at a future event!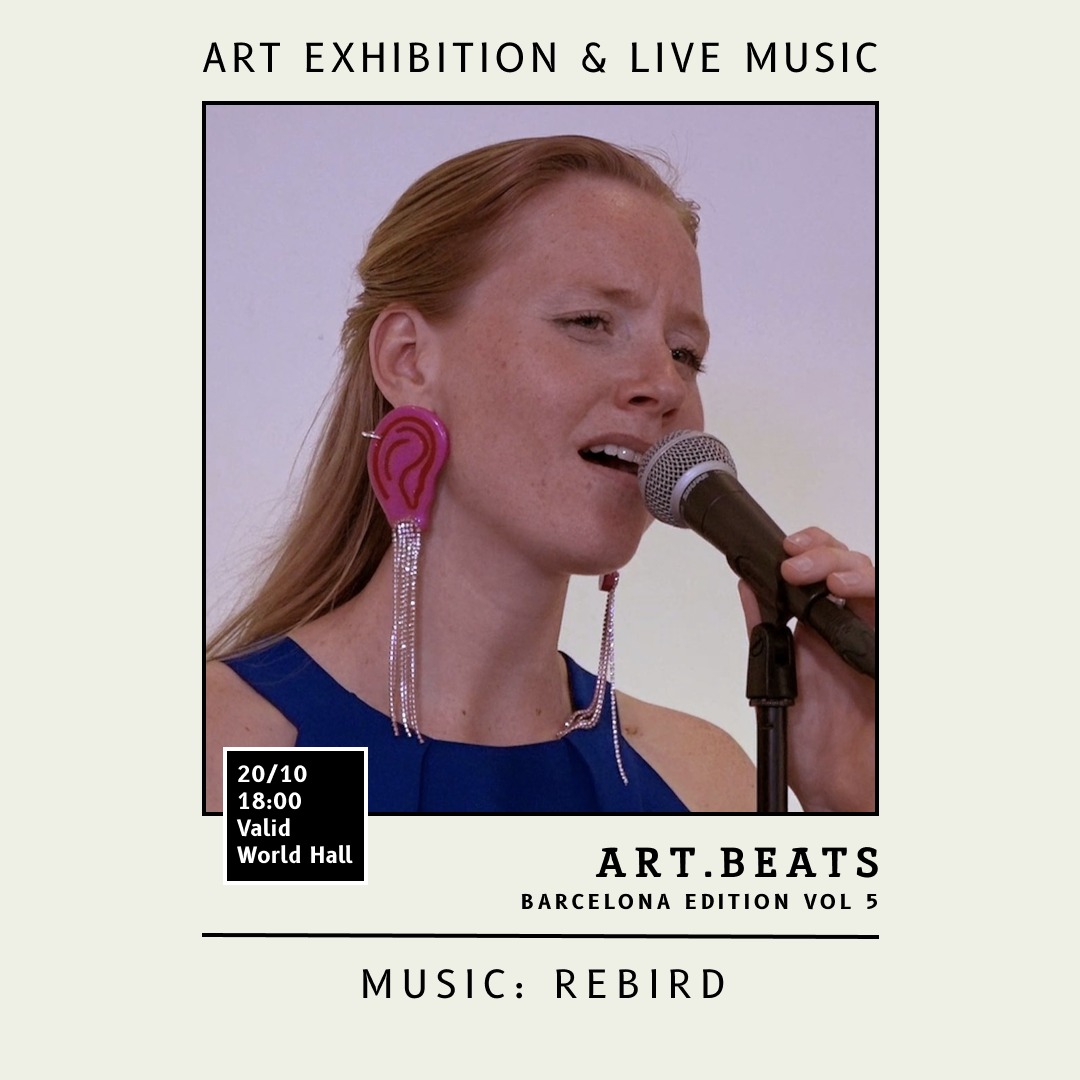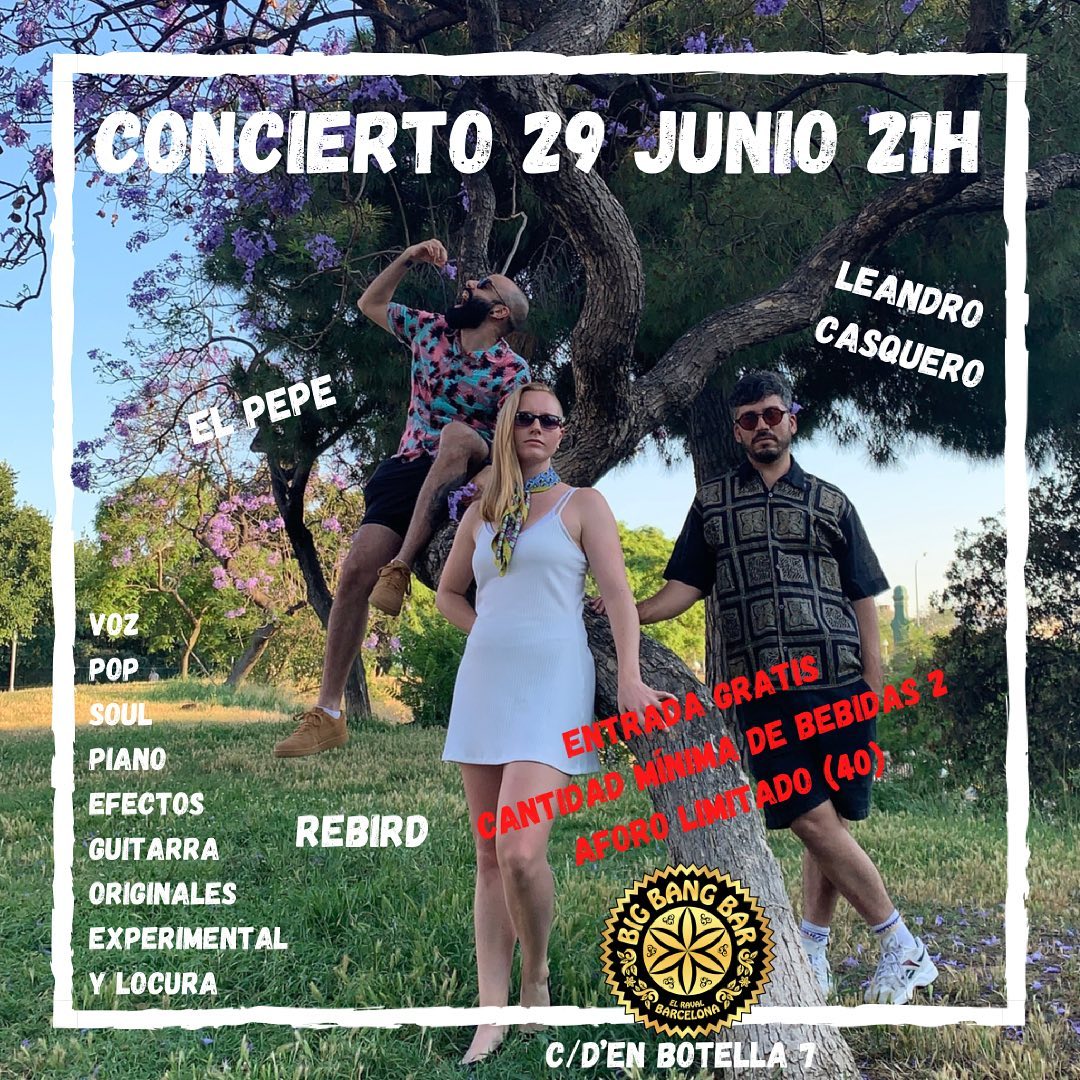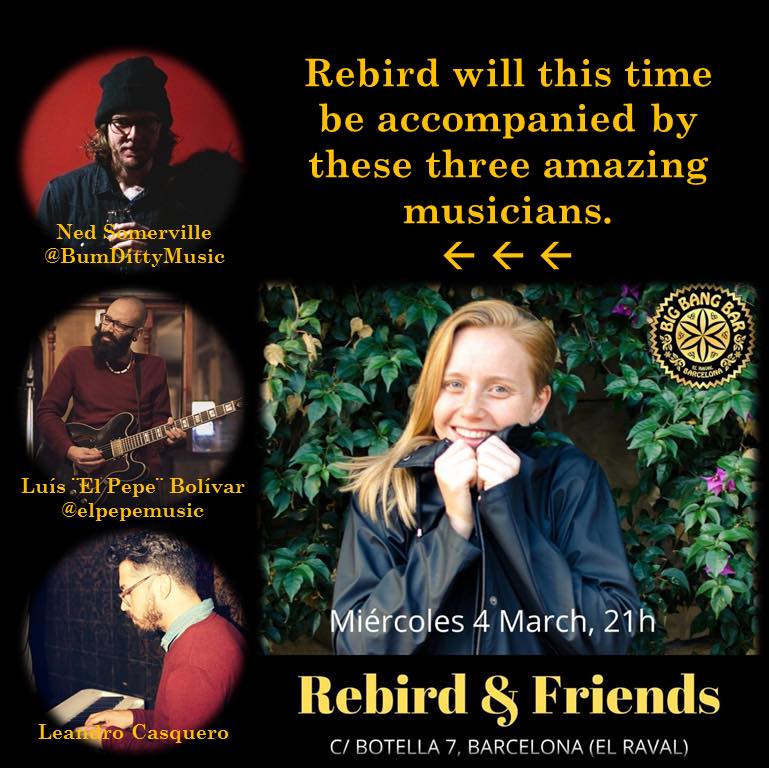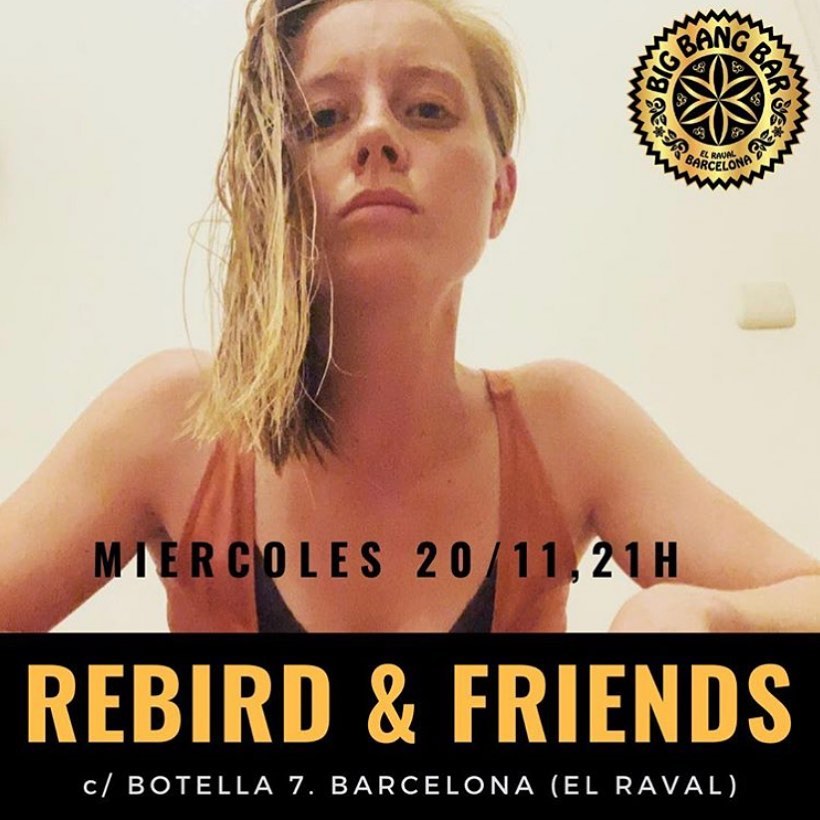 Donations by the Rebird Community
Coming to an event of Rebird means that at times you will also be contributing to a good cause. This could be directly or indirectly, via for example a point of donation or a part of the earnings of Rebird's event will go to a good cause.
€560 collected for AFANOC.
17 Oct 2021 – A charity run was organised via Fundación Migranodearena. Rebird completed the eDreams 1/2 marathon in Barcelona and her community contributed by donating in total an amount of €560 for Associació AFANOC.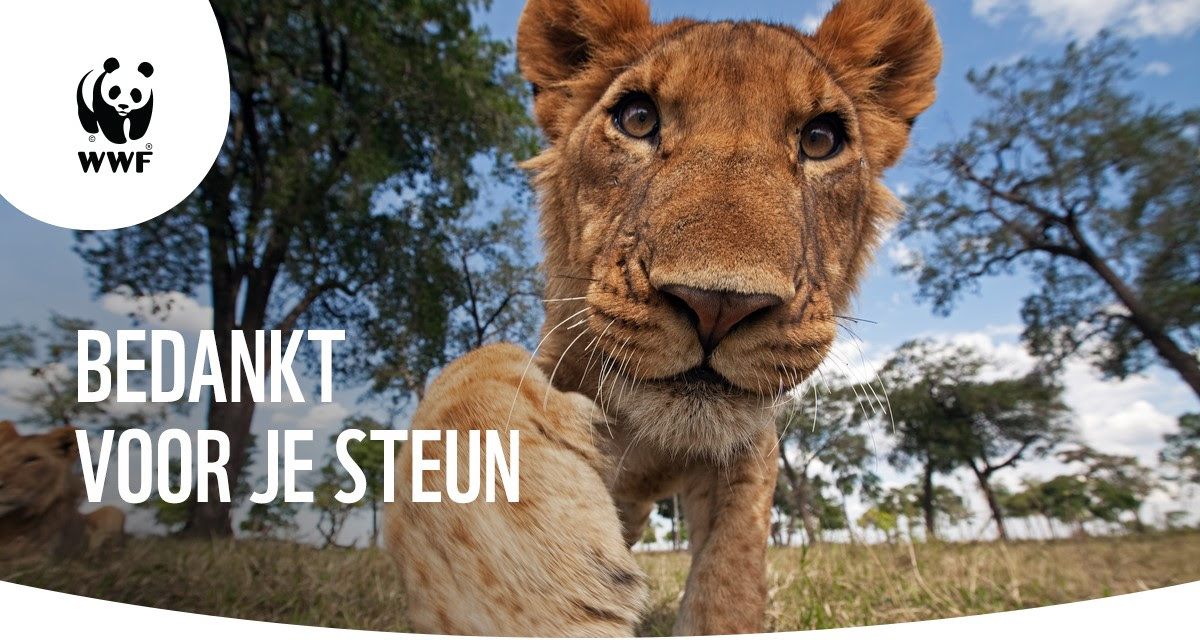 €40 collected for WWF.
7 Mar 2020 – Part of the earnings of Rebird's concert on the 4rd of March 2021 have been donated to WWF.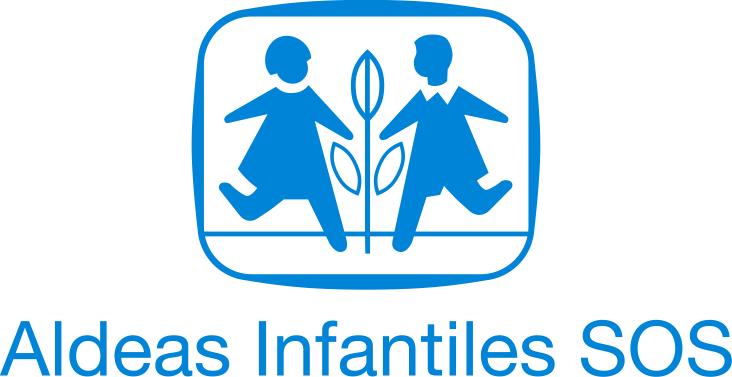 €233 collected for Aldeas Infantiles SOS de España.
11 Jan 2020 – Between the online donations, the selling of art for donation, a percentage of each drink drunk and the "bowl for charity" on the bar, the Rebird Community donated in total an amount of €233 for
Aldeas Infantiles SOS de España
.
About me
As my parents are musicians music has always been a driving force in my family. I therefore grew up playing the recorder and clarinet from a very young age and participated in orchestras using these skills. Later on I learned how to play the piano and started to properly explore my vocal register. Creating original sounds, harmonies, writing lyrics and combining them have always been a joy and pleasure for me, so once I had the confidence to use these skills, the musician in me really awoke.
Currently I'm living in Barcelona, Spain and I'm a regular at open mic nights, (experimental) jams, creative musical explorations in nature, and more. This is only half the fun as I'm also producing many of my songs at home, in my Rebird cave (nest you may say), together with a community of wonderful musicians.
If you like what I do and you would like to book Rebird (& band) for a concert, or you need (original) backing vocals/harmonies for a track, do not hesitate to contact me via rebirdcreations@gmail.com.